9 New Year's Eve: expectations vs reality
The new year's eve is just a few days away and the same story of expectation vs reality that strikes people year after year is going to repeat itself as people spend a huge amount of time in planning the most perfect way to spend a new year's eve. However, more often than not, this highly anticipated night turns out to be a dud turning it into a night of a letdown. Do not agree? Well here are a few situations that you expect and how they really go down.
9 New Year's Eve: expectations vs reality
New year's eve:
Expectation:
Head on a long vacation with friends or be at the most happening party and ring in the new year in the most memorable manner ever.
Reality:
Coiled up on a couch with some popcorn, binge watching your favourite television series. Or maybe head to a new year party at a friends place.
Driving
Expectation: With everyone busy at new year parties that start at around 6pm the roads would be spick and span and you can cruise through the way like on a race track.
Reality:
Everyone probably got as late as you did at work and hit the road at around 7 somethings making it all clogged up, leaving you in the feeling that you might ring in the new year on the roads trying to make it to the new year party venue.
Company
via GIPHY
Expectation:
Being surrounded by people who love you is the best feeling ever and that is what the new year's eve is about.
Reality:
Surrounded by random strangers in bunches, you might even find it difficult to have a peaceful space for you and your friends to crash. 'Coz most of the parties that tend to seem pocket-friendly make a compromise on the venue capacity, leading to a crowded venue.
Experience
via GIPHY
Expectation:
Sipping a few drinks and grooving to the most popular songs and losing yourself in the ambience and fun.
Reality:
Clicking over a million selfies with the most absurd expressions and updating your social feed about how "fun" the party is, you have probably missed out on all the fun of the new year's eve party.
The midnight hour
via GIPHY
Expectation:
Wait with a bated breath for the clock to strike twelve, and join the countdown cheers 10 seconds before it is the midnight hour. Scream your heart out and wishing your friends a very happy new year 2016 from the bottom of your heart.
Reality:
You have passed out and seriously have no clue about what time it is, or you are probably that friend in the gang who does not drink and has to babysit the lot.
Resolutions
Expectations:
I will have healthier eating habits.
Reality:
There is nothing more appealing than junk food and the extra serving of fries.
Drinking
Expectation:
Sipping a glass of wine or two, just to stay in a happy state of intoxication, while spending the night dancing.
Reality:
Too drunk to move a muscle after 11 pm.
The outfits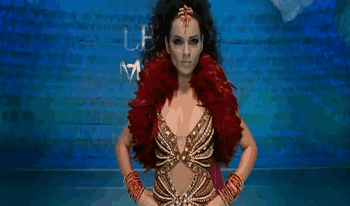 Expectation:
Everyone is dressed in sync with the theme and you look elegant and stylish.
Reality:
That ill-fitting dress bought at the year-end sale makes it seem like you never shopped after high-school.
Girls
Expectations:
Hot single girls that make every heart skip a beat, are at the party and waiting for you to make the first move.
Reality:
As reality slaps you on the face, you realise that you are single and spending a bomb to attend the new year's eve party hoping to find a date has failed miserably and you are forever alone even in the new year.
But hey, reality need not be that bad and far moved from your expectation always. So, go ahead and give these new year's eve parties a shot, to see how expectations meet reality.