Hum Mukhtara at Salar Jung Museum
Na banengi hum mom ki battiyan, banenge hum jalti mashaalein… hum Mukhtara, sab Mukhtara…
Hum Mukhtara is a play directed by Usha Ganguli and would be performed at Salar Jung Museum as part of the Qadir Ali Baig Festival 2014. Hum Mukhtara, featuring Usha Ganguli along with 30 other actors and singers would take place on November 15, 2014 from 7:30 pm to 9:00 pm at the historic Salarjung Museum.
Hum Mukhtara is a play that is based on the true story of a rape victim in Pakistan. Based on the life incident of Mukhtār Mā'ī, who was the survivor of a gang rape as a form of honour revenge, on the orders of a tribal council of the local Mastoi Baloch clan that was richer and more powerful as opposed to her Tatla clan in that region, to which she belonged.
Hum Mukhtara is a play that originated from  West Bengal, India, directed by Usha Ganguly will be presented and her team at the Qadir Ali Baig Theater Festival 2014. The 80-minute-long production in Hindi is being presented by Rangakarmee, Kolkata.
The play seeks to narrate the way Mukhtar fought back the atrocity by speaking about it and persuading the case with the help of numerous domestic and international media organizations. These attempts led to a remarkable change in the feminist movement in Pakistan.
Following the pressure from these institutions to punish the wrongdoers, in 2002, six men, including the four rapists, were sentenced to death, but later in 2005 Lahore High Court acquitted five of them and reduced the punishment of the sixth man to a life sentence, which the play seeks to probe upon.
Hum Mukhtara by  Usha Ganguly is a close portrayal of the rape survivor's life, which also sends a strong message to the audience to ponder over the increasing instances of atrocities against women, under the cape of culture, tradition and honor, while ignoring the fact that no culture would ever support hurting another being.
Usha Ganguly and her troupe would surely leave the audience spellbound with their performance at the Qadir Ali Baig Theater Festival 2014, just as they had in the past at other national and international events. The play is a pledge to not remain silent spectators to incidents of violence on women and how no sort of explanation would serve an exception for a heinous crime like rape.
About Usha Ganguly: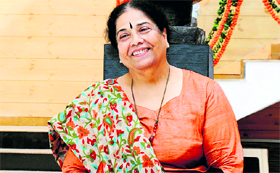 Usha Ganguli is a renowned feminist and a Hindi playwright from Kolkata who runs the Rangakarmee theatre group that was formed in 1976. The theater group is renowned for its productions like Mahabhoj, Rudali, Court Martial, and Antaryatra,etc., which are celebrated for their our offbeat themes that have a strong social connection and a message.
She is the recipient of Sangeet Natak Akademi Award for Direction, given by the Sangeet Natak Akademi, India's National Academy of Music, Dance & Drama in 1998.She was also been honoured by the West Bengal Government as the best actress for the play Gudia Ghar. The play Hum Mukhtara is yet another amazing work that was created and performed by her troupe Rangakarmee several times in the past.
Make sure you do not miss out on this amazing play that would be screened at the Salarjung Museum in Hyderabad on November 15, 2014 from 7:30 pm to 9:00 pm.